Detroit Future City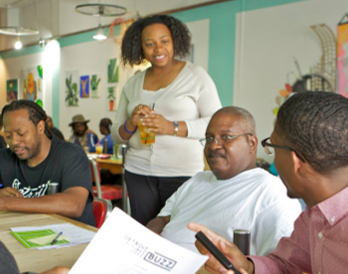 "Having a thought partner like           C-FACTS to support your organization will be the difference between doing business as usual or becoming  a fast growing, dynamic organization!"
— Anika Goss-Foster Executive Director, Detroit Future Cities
Strategic Planning and Stakeholder Engagement
C-FACTS developed a five-year strategic and business plan for Detroit Future City in consultation with their newly formed Board and recently appointed Executive Director. DFC struggled for five years to define the organization's mission and role in the implementation of the transformative Detroit Future City strategic framework. Over the last four months, we have built consensus with the Board and senior management on strategic direction. The resulting plan is built on a solid platform of data analysis, partner alignment, capacity constraints and resource availability to ensure goals can be achieved.
Board Interviews
The planning process started by interviewing Board members to gain an understanding of their view of DFC's role and value proposition. The Board had very differing opinions about DFC's role which informed the planning process and validated the need to reach consensus on DFC's mission.
Data Analysis
An environmental scan and data analysis was conducted to identify the opportunities that DFC could pursue. This included a scan of Detroit's service delivery system and an assessment of the array of partners carrying out a community development agenda. We also examined data around single-family rental housing, alternative uses of land, green storm water infrastructure needs, commercial corridors and obsolete industrial sites.
Strategic Framework
The data analysis and partner assessment allowed the Board and management team to make informed strategic planning decisions. C-FACTS held two strategic planning sessions with the Board and facilitated several staff meetings to set the overall direction for the next five years. We then led the staff through a series of work sessions to develop specific strategies to achieve Board established goals including metrics for measuring performance.
Implementation Plans
C-FACTS is in the process of providing tools, guidance and counsel to staff to develop specific implementation work plans for each strategy. These work plans are very detailed with due dates and resource requirements for completing each task. Major milestones and deliverables are clearly defined.